Foreign Exchange reserves
The CBK's usable foreign exchange reserves soared from the previous week to stand at USD 9.72 bn (5.84 months of import cover). This meets CBK's statutory requirement to endeavour to maintain at least 4.0 months of import cover, and the EAC region's convergence criteria of 4.5 months of import cover.
Currency
The Kenyan Shilling depreciated against major currencies over the week, trading against the USD at Kshs 106.67 up from Kshs 106.51, Sterling Pound it traded at Ksh 133.31 from Ksh 132.57 and against the Euro, it traded at Ksh 120.28 up from Ksh 119.54 recorded last week. However, it remained relatively stable against the regional currency and declined against the Rand by 168 basis points.
Liquidity
Liquidity continued to improve from the previous weeks on account of government payments. The weekly mean of the daily weighted average inter-bank rate dipped to 2.96% from 3.93% in the previous week. The volume transacted declined by 53.98% to stand at Kshs 4.108bn. Commercial banks' excess reserves stood at Kshs 35.30bn.
Fixed Income
T-Bills
T-bills remained oversubscribed at a rate of 182.96% but declined from 188.36% in the preceding week. The over-subscription is owed to high liquidity in the money market and investors' preference for short-term papers. The subscription rates for the 91-day, 182-day, and 364-day papers increased to 511.33%, 267.53%, and 289.77%, respectively. The yields on the 91-day, 182-day, and 364-day papers, decreased marginally to 6.55%, 7.05%, and 7.77%, respectively.
T-Bonds
The bonds market registered reduced activity from the previous week with the bonds turnover declining by 94.45% to Kshs 1.14 billion. The total bond deals decreased from 620 to 77. In the international market, yields on Kenya's Eurobonds remained stable declining by an average of 0.34 basis points. Similarly, the yields on the 10-year Eurobonds for Angola and Ghana declined.
Equities
The Equity Market closed the week with 13.22m shares valued at Kshs 289m against 146.27m shares valued at Kshs 2.77 bn transacted in the previous week. The market capitalization declined marginally by 0.74% to Kshs 2.10 trillion.
NASI declined by 0.73%, while NSE 20 and NSE 25 diminished by 0.34% and 1.56%, respectively. The performance of the NASI was driven by losses recorded by large-cap stocks, with Britam Holdings, BAT, EABL, Equity Group Holdings, and Co-operative bank declining by 2.56%, 3.13%, 4.41%, 6.28%, and 2.4% respectively.
There were net sell-offs by foreign investors seeking to cash in gain.
The Banking sector had shares worth Kshs 551m transacted which accounted for 35.92% of the week's traded value, Manufacturing & Allied sector represented 8.01%. Safaricom represented 51.54% of shares traded and gained by 4.04%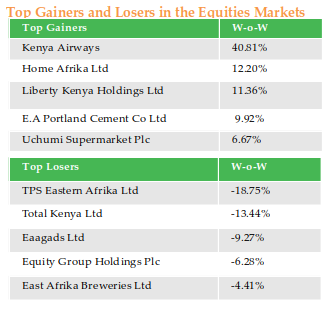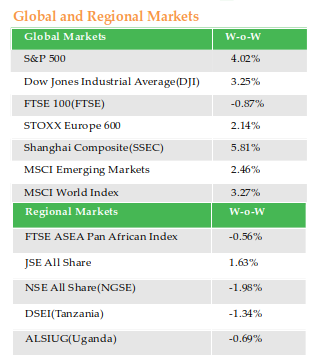 Global stock markets gained from the previous week. The MSCI World Index edged up by 3.27%, while the MSCI Emerging Markets soared by 2.46%. In the USA, DJI and S&P 500 climbed up 3.25% and 4.02%. In Europe, STOXX Europe 600 appreciated by 2.14%, and the FTSE 100 slightly declined by 0.87%. China's Shanghai Composite rose by 5.81%.
On the regional front, the FTSE ASEA Pan African index declined by 0.56%. The JSE All Share gained 1.63%, Nigeria's NSE All-Share dipped slightly by 1.98%. Within the EAC, Tanzania's DSEI and Uganda's ALSIUG decreased marginally by 1.34% and 0.69%, respectively.
On the global commodities market, the oil futures experienced rise in prices with the Crude Oil WTI and ICE Brent Crude soaring by 5.53% and 4.27%, respectively. This follows a fall in US unemployment and a sharp drop in crude stockpiles. Gold futures prices increased by 0.41% to settle at $1,787.00 at the end of the week, supported by uncertainty surrounding the second wave of Covid-19.
Alternative Investments
The Derivatives Market closed the week with a total of 6 contracts valued at Kshs 184,00.
The I-REIT market registered depressed activity with a turnover of Kshs 20,450 from 4 unit deals against a turnover of Kshs 6.849m from 106 unit deals in the preceding week.
There were no activity in the ETF market.
Week's Highlights
Kenya Deposit Insurance Corporation has suspended the implementation of the risk-based premium model by one year and given banks a six month grace period to pay their annual premiums. It has also enforced the revised deposit insurance coverage limit of Ksh. 500,000 from Ksh. 100,000 effective July 1. The delay is aimed at supporting the economy and banking industry during this difficult period caused by COVID – 19 impacts.
Parts of Kenya, Uganda, South Sudan, Sudan, and Ethiopia are forecasted to have above-normal rainfall and a return of floods between June and September. This is expected to affect crop production in eastern and southern Kenya among other regional areas due to the mixed effects of heavy rainfall and floods, early end of the long rainy season, and the destructive invasion by desert locust.
Flame Tree Group intends to issue a corporate bond to fund growth. The number of corporate bonds in Kenya has declined to only 6 valued at Sh 38.1 billion as at December 2019 from 20 valued at Sh 61.9 billion as at December 2018. This is after the Chase and Imperial Banks issuance left investors with unsettled claims of Sh 4.82 billion and Sh 2 billion respectively. Flame Tree Group is seeking additional capital to help the firm grow after receiving loan from Stanbic bank.
The Capital Markets Authority has invited stakeholders to provide input on regulations that will soon allow firms to buy back shares from the market. The new rules will see companies disclose all the critical information, including risks and pricing of the share repurchase to enhance investor protection, promote liquidity, and ensure transparency in share buyback transactions.
LeapFrog Africa is set to acquire a 24% stake in ICEA Lion. The partnership will benefit ICEA Lion based on LeapFrog investments and its partner Prudential Financial Inc and further help to implement the company's vision of being a Pan African Insurance and Finance Service Provider. ICEA group's long term strategy of driving customer connectivity, digitization, and growth from new products and leveraged operating synergies will be supported by the partnership.
Kenya Airways shares were suspend from trading following the up-coning 100% buyout by the government. NSE issued a notice which stated that the shares beginning 4th July 2020 will remain suspended for the next three months.